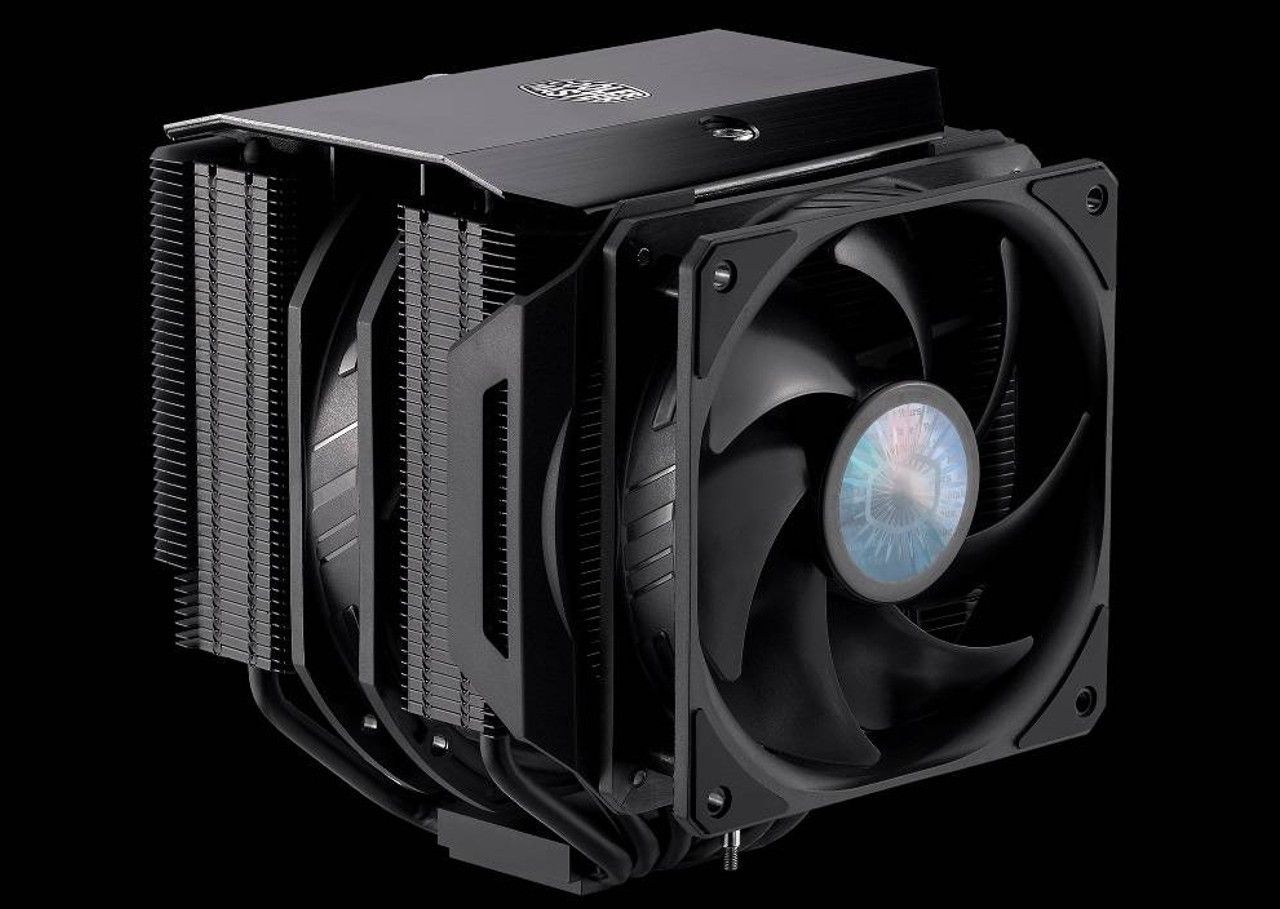 5 best coolers for LGA 1700 and AM4 socket processors
Unlike the Tray-version the Box and MPK versions (a beautiful color and gray cardboard box respectively) are packed with a simple cooler. The only exceptions are Intel Core chips with index K and KF, ie unlocked multiplier and the ability to manually overclock. There's no way you can cool them down with a small block of aluminum. But even for less hot processors the cooler «out of the box» Is a questionable choice: noisy and operating on the verge of overheating (80+ degrees Celsius). Lovers of complete silence in the room are wise to trust an inexpensive single-tower cooler, and fans of «icy temperatures — Dual tower super cooler. This term refers to models that can dissipate over 200 Watts of heat. True, and their price is comparably high — $100+, more expensive only water cooling system. But from LED backlighting cooler A-brands (German, Austrian and Taiwanese) gradually give up — In vogue again austere ascetic design. But if you still want RGB, then the B-brands from China are your lot.
Noctua NH-L9i-17xx and NH-L9a-AM4 — For an ultra-compact PC
Reason to buy: Lower than boxed cooler Intel and especially AMD, quieter than boxed cooler AMD and especially Intel, the fan on the wear-resistant SSO2 bearing.
Reason not to buy: Only mounts to one socket included.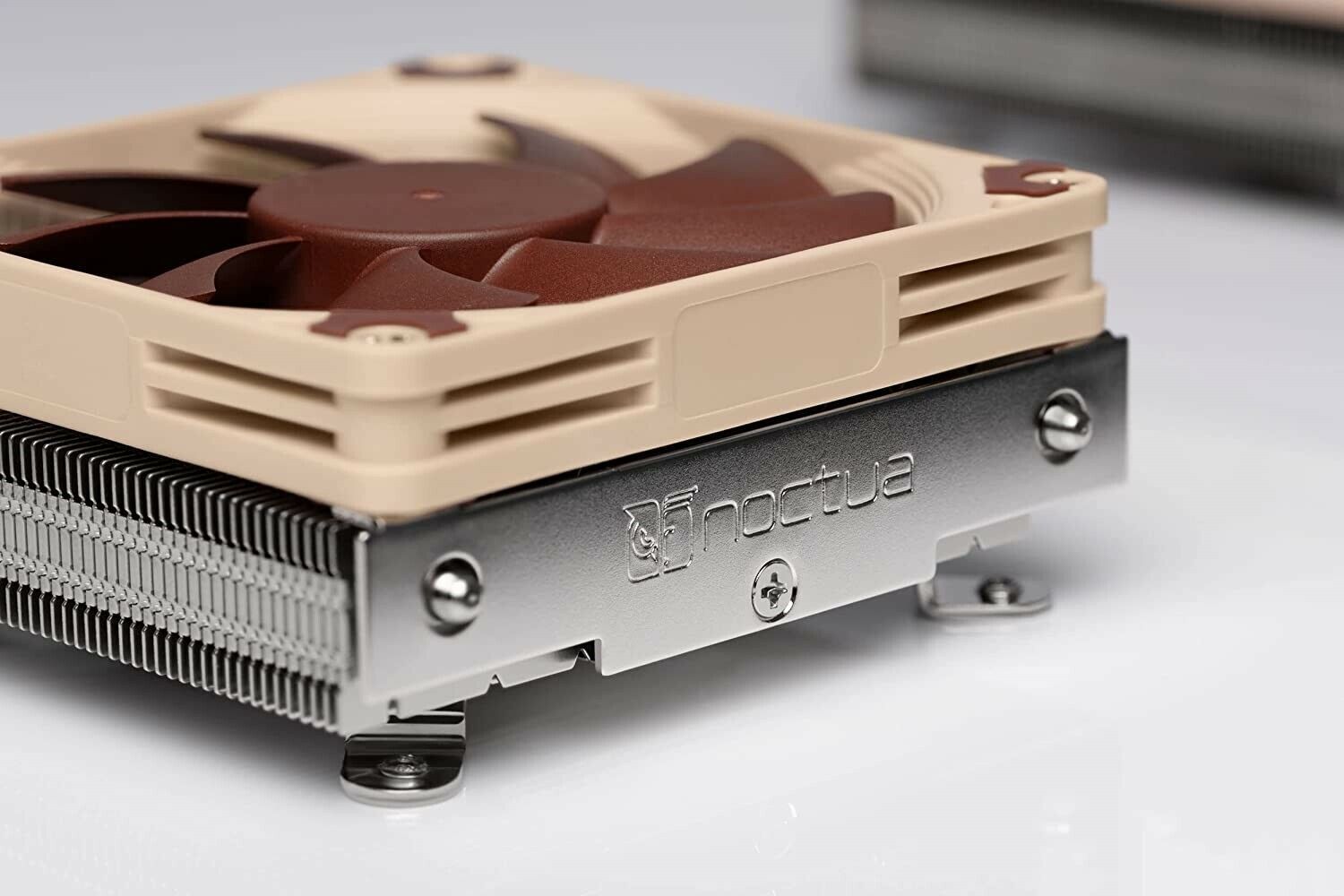 Noctua NH-L9i-17xx and NH-L9a-AM4 — «sweetie pie» low-profile CPU coolers, the first for 12th-generation Core processors (and the upcoming 13th), and the second for Ryzen. Both are 37mm high, a centimeter lower than Intel's box cooler and a half than AMD's Wraith Stealth. In layman's terms this mini cooler format is called «pancakes». Such small dimensions are achieved by using fan with thickness of only 14 mm on self-stabilizing SSO2 bearing. It is covered by the maximum possible 6-year warranty.
Included screws for attaching the alternate 9 cm thick fan wheel. At equal speed it pumps more air per unit time. And in general the package of these mini coolers is royally rich. There's also an LNA resistor to reduce max speed from 2500rpm to 1800rpm. And a tube of NT-H1 thermal paste. And voluminous metal nameplate with Noctua logo, which you can proudly stick on the front panel of your PC case (other manufacturers are usually limited to a flat sticker).
A black-painted version of the Chromax cooler.Black (there are modifications for Intel LGA 1150-1200, LGA 1700 and AMD AM4 sockets) is slightly more expensive but additionally equipped with Noctua NA-FD1 height adjustable air intake. It lets you pump cool air outside a Mini-ITX or Thin-ITX PC case, instead of trapping heat from other PC components inside.
be quiet! Shadow Rock Slim 2 — compatible with high memory
Reason to buy: Does not interfere with installation of high RAM, direct contact of heat pipes with the processor, 14cm fan on Rifle Bearing.
Reason not to buy: Tubes have no anti-corrosion coating.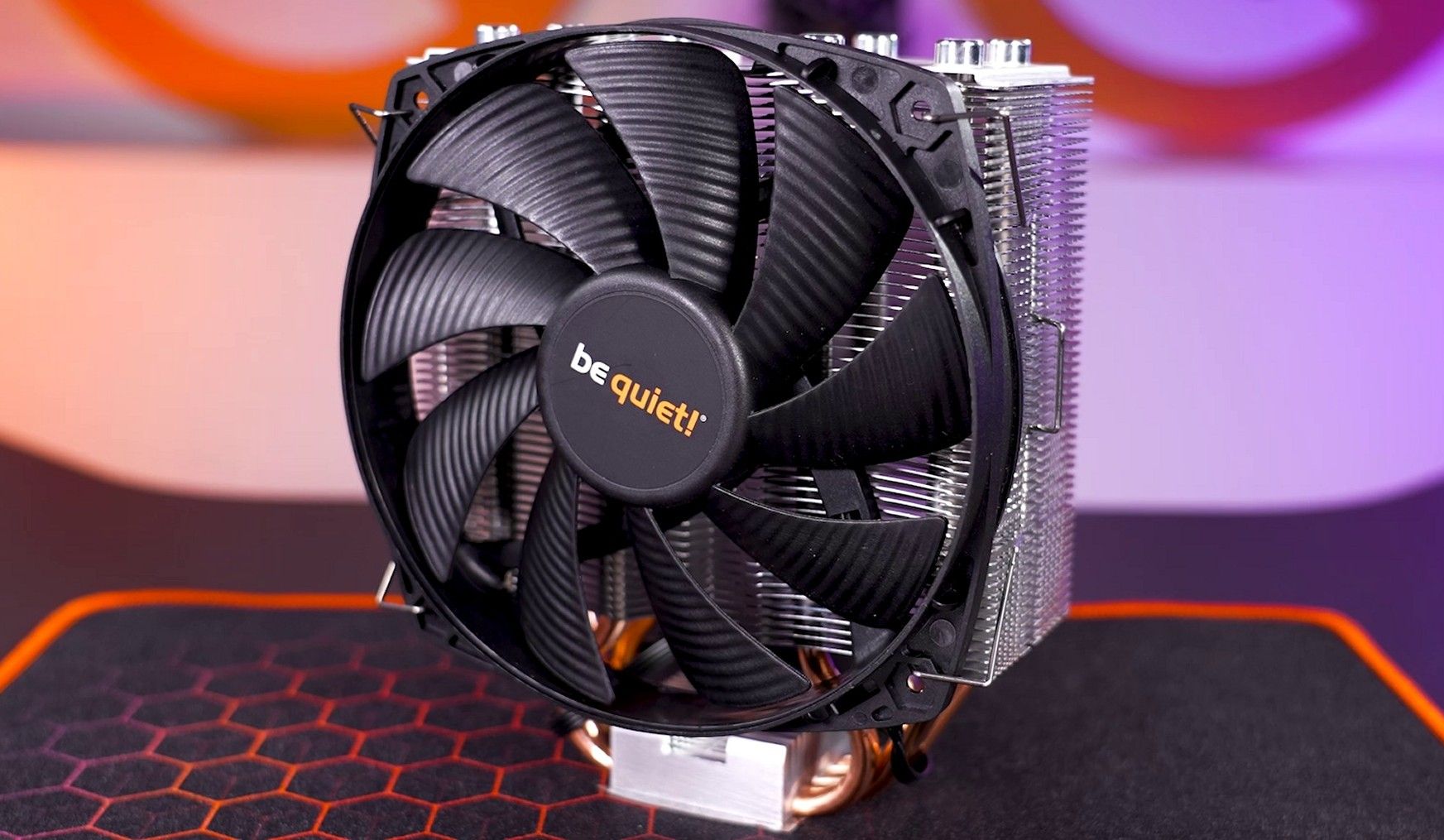 be quiet! Shadow Rock Slim 2 — a tall and skinny, just like the author of this article, CPU cooler that will not block even the RAM slot closest to the CPU socket. The tower height is 16 cm, which is not a problem for most new cases. But it may not fit in the old one, be sure to check before you buy. Four 6mm diameter copper heat pipes have no nickel anti-corrosive coating and are in direct contact with the CPU.
Direct contact is more useful for processors with a large, one-piece chip, such as Ryzen APUs with integrated graphics. AMD processors without an integrated GPU, on the other hand, are made up of multiple chipsets. Moreover some areas of the chipset may heat up unevenly. So in this case a cooler with an intermediate plate that distributes heat between all the tubes is a better choice. In addition, it allows you to rotate the tower side-to-side or up, without worrying that some of the tubes will not touch the elongated chip of Intel Core processors.
The electric motor of the proprietary 14-cm be quiet fan! Has four, not the standard three, poles for more accurate rotation alignment. The bearing used may not be top-of-the-line fluid dynamic, but it's still a rifled Rifle Bearing, which is many times more durable than a regular hub — 80,000 hours of trouble free operation. Four pin PWM fan connector allows you to accurately read the speed and adjust the rpm relationship with CPU temperature.
Arctic Freezer 34 eSports DUO — price performance ratio
Reason to buy: Two preinstalled 12cm fans, durable HDB bearings, color options and the famous Arctic MX-4 thermal paste included.
Reason not to buy: The questionable benefit of having two spinners on the same turret.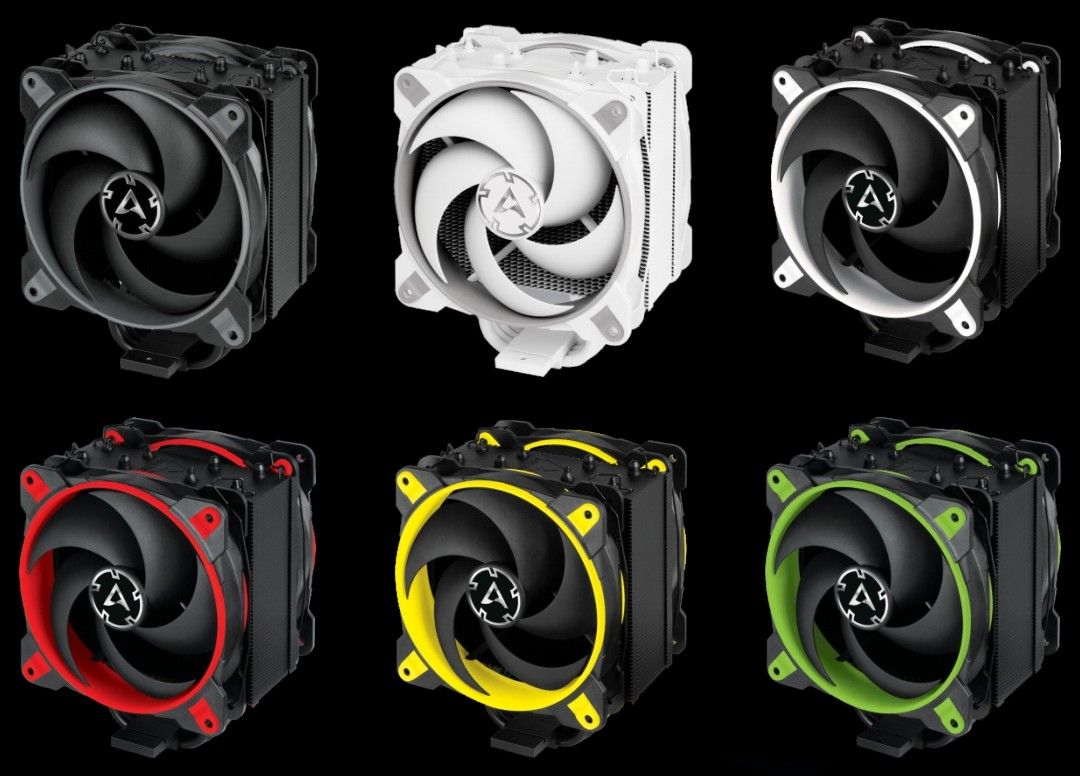 Arctic Freezer 34 eSports DUO — Single tower dual-fan cooler with four heatpipes and a wide variety of colors: black, white, black and white, red, yellow and green. The latter will look most harmoniously paired with a motherboard by the increasingly popular brand Huanan. Even more so, as the cooler supports LGA 2011-v3 socket (semi-server). it comes with what is probably the world's most popular tube of thermal paste — Arctic MX-4.
Originally, the Freezer 34 eSports DUO did not support the latest LGA 1700 consumer CPU socket for 12th generation Intel Core. But recently the German company Arctic completed its brainchild with the necessary bracket. Competing AMD AM4 socket for Ryzen 1000 to 5000-series processors is of course supported too. And according to the statements of AMD, the coming AM5 will have the same cooler fixing, which will prolong validity of current cooling systems by years.
A pair of fans have a diameter of 12 cm and hydraulic bearings. And these are not usual hydrostatic tubes, but hydrodynamic ones are much more durable. Arctic's turntables in general are some of the most affordable HDB (Hydro Dynamic Bearing) based turntables. And they also start at a record low of 200 rpm, which is not even close enough to discern by ear. You can buy such spinners, for example for a PC case, separately — they are called Arctic BioniX P120.
Deepcool AK620 — Maximum heat dissipation
Reason to buy: Two towers and two 12cm fans, hydrodynamic bearings, decorative plates for tube ends, screwdriver included.
Reason not to buy: Heavy weight 1.5kg may not be to everyone's liking.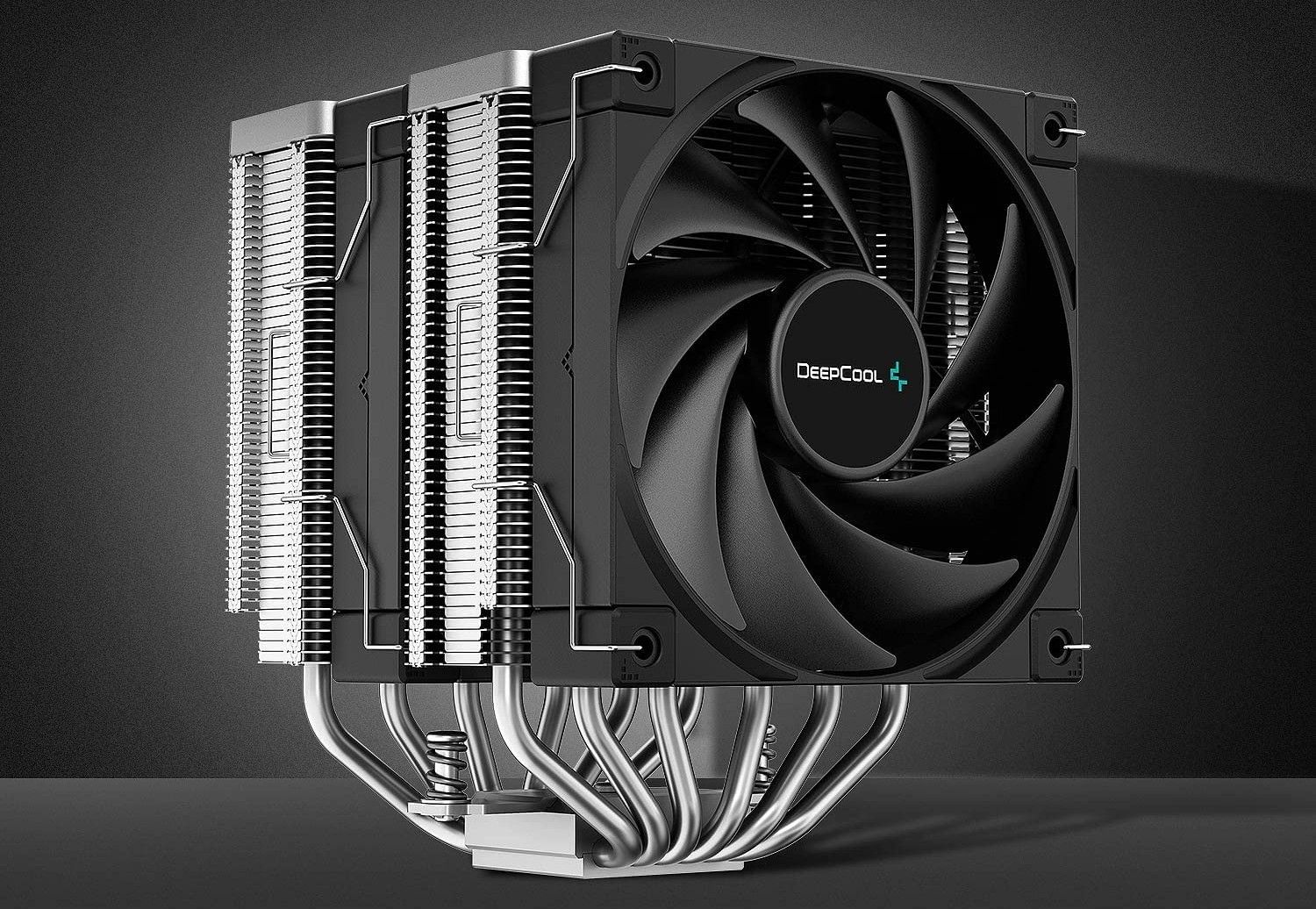 Deepcool AK620 — Dual-tower and dual-fan cooler weighing almost 1.5 kilograms. By the way, not all dual turrets are equipped with a pair of turrets. Sometimes only one fan is installed between sections of fins. However, the same trick can be pulled with the Deepcool AK620. In this case the second propeller will not overlap the slots of RAM, because there is a cutout for it on the heatsink. This will allow you to freely remove low-cooled memory modules, or install high-cooled RAM.
Six nickel plated 6 mm diameter heat pipes run through the aluminum fins. Uniform transfer of heat from the processor to so many tubes is only possible by using an intermediary plate polished to a mirror shine. Unsightly sealed tube ends are covered by decorative lattice-textured plates. A pair of scrolls has a diameter of 12 cm and a durable hydrodynamic bearing. Speed can be adjusted from 500 to 1850 rpm.
The fans are connected to the motherboard via a Y-type splitter. Beside it the set includes a tube of thermal paste and a long L-shaped screwdriver for tightening the screws between the towers. The manufacturer claims heat dissipation up to 260W. De jure processors with such high TDP are not found on sale. But de facto by automatically overclocking Intel Velocity Boost and, even more so, manually overclocking such high heat is quite achievable.
Cooler MasterAir MA624 Stealth — heat sink and memory compatibility
Reason to buy: Two towers and three fans (14 + 14 + 12 cm), HDB-bearings, adjustable height and width of the cooler, high memory compatibility.
Reason not to buy: Overpaying for a third propeller.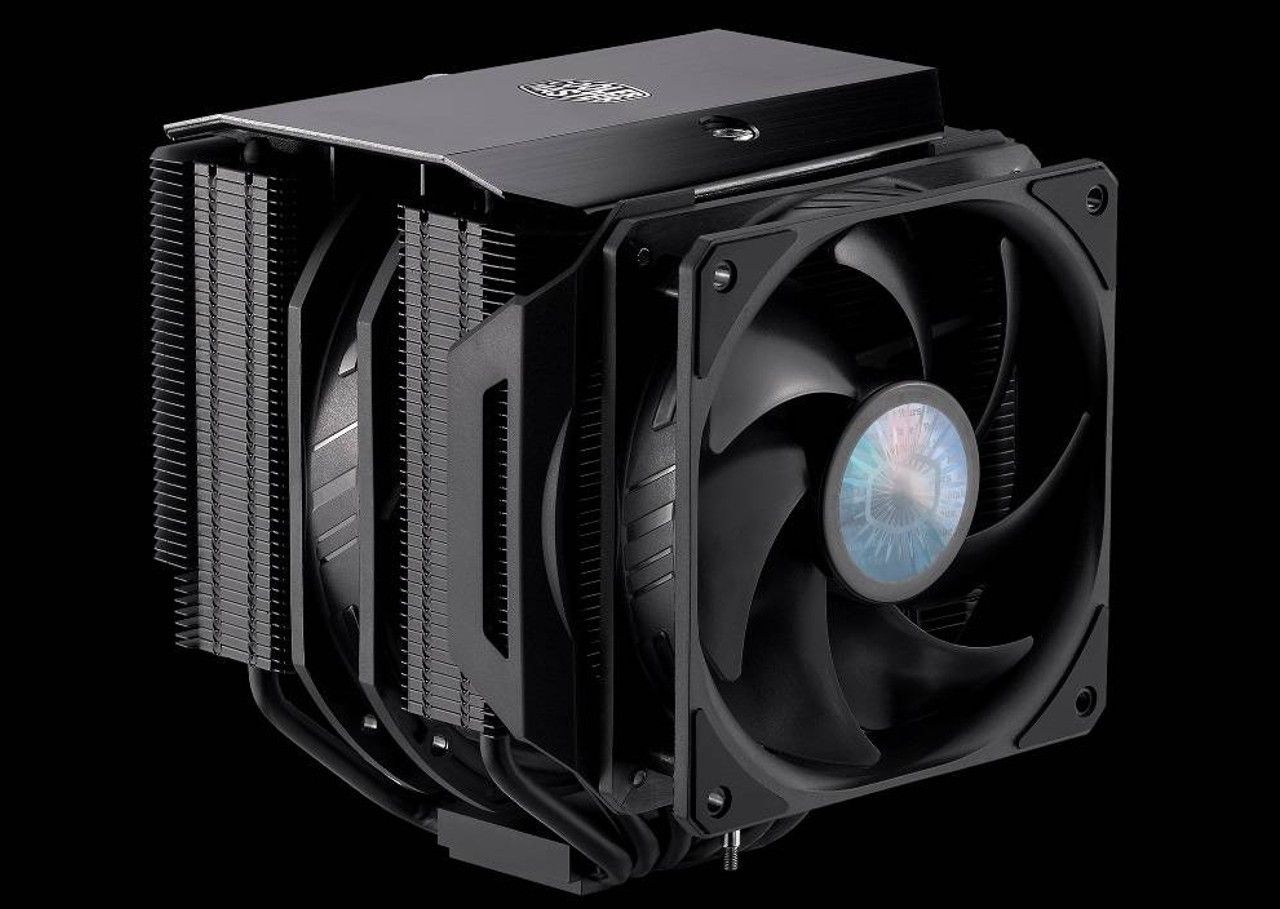 Cooler MasterAir MA624 Stealth — CPU cooler with two towers and, unexpectedly, three fans. And it is not possible to install all three turrets at once (there is no third set of brackets), and it makes no sense. Central 14cm fan is always installed. On top of it lies a decorative plate that fastens the towers to each other. And with two other propellers, the user has a wide room for maneuvering.
You don't have to put a second fan at all. This will allow you to set the highest «horny» RAM — to 7 cm. If you install a 12-cm swirler, the allowable height of the RAM will be reduced to 4 cm, which is only a centimeter more than the simplest non-radiator modules. But the height of CPU cooler stays the same — 16 cm. But if you mount two 14 cm swirlers, you'll either have to make do with the «bare» memory without radios. Or buy a wide computer case that can accommodate a tower of 17.5 cm.
The manufacturer does not specify fan bearing type. But considering the claimed MTBF of up to 160K hours, this is clearly a top-end HDB bearing. One or two unclaimed swirlers are suggested to use as case swirlers. After all, if cases are equipped with propellers, they are most often noisy and short-lived sliding bearings. The Cooler MasterAir MA624 Stealth weighs quite moderately, as for a double tower — 1.3 kg. Thanks to this you can not worry about bending the motherboard.