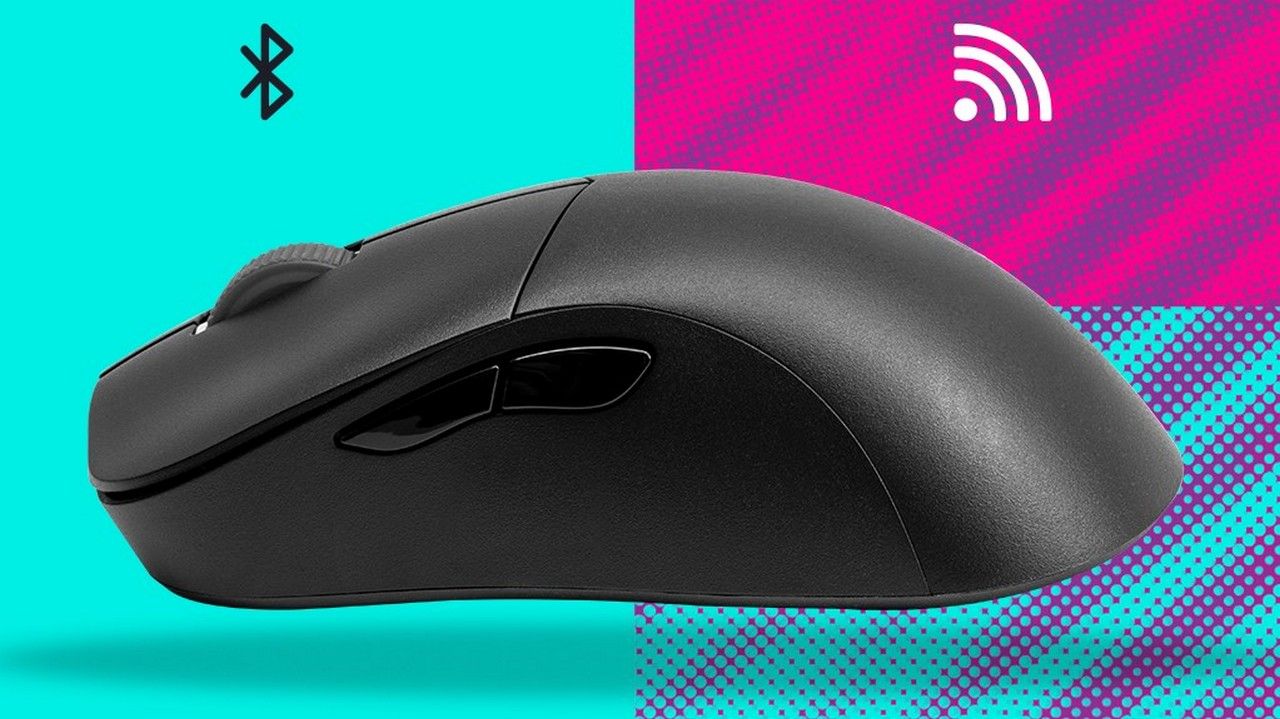 Top 5 gaming mice under $100
It is undoubtedly possible to drag the skating rink in Dota 2 or CSGO by manipulating with the simplest office mouse. But firstly, a budget mouse has high probability of sensor failure (accidental move or freeze of the cursor) at the most crucial moment of multiplayer battle. And secondly, it can quickly tire your wrist, which in the long run is fraught with chronic joint diseases. That's why ultralight mice (60 – 80g), which is achieved by abundant perforation of the case. What's more, the difference between wired and wireless mouse is now insignificant 10 g. On the contrary, many Old Believers prefer heavier mice — 100+ г. Avago laser sensors have been almost completely replaced by optical Pixart ones. If you are right-handed you are free to choose between the symmetric or asymmetric mouse shape. Left-handed users will have to content themselves with the strictly symmetrical. The golden mean is probably in the price range up to $100. There are already primitive electronic components (high-precision sensors and rugged switches), but still no big brand name overpayment.
AQIRYS T.G.A. Wired — dress-up game
Reasons to buy: 16'000 DPI Pixart 3389 sensor, interchangeable panels in three colors, weights for weight adjustment, pads under the keys to change the click depth.
Reasons not to buy: White cloth cable can get dirty easily.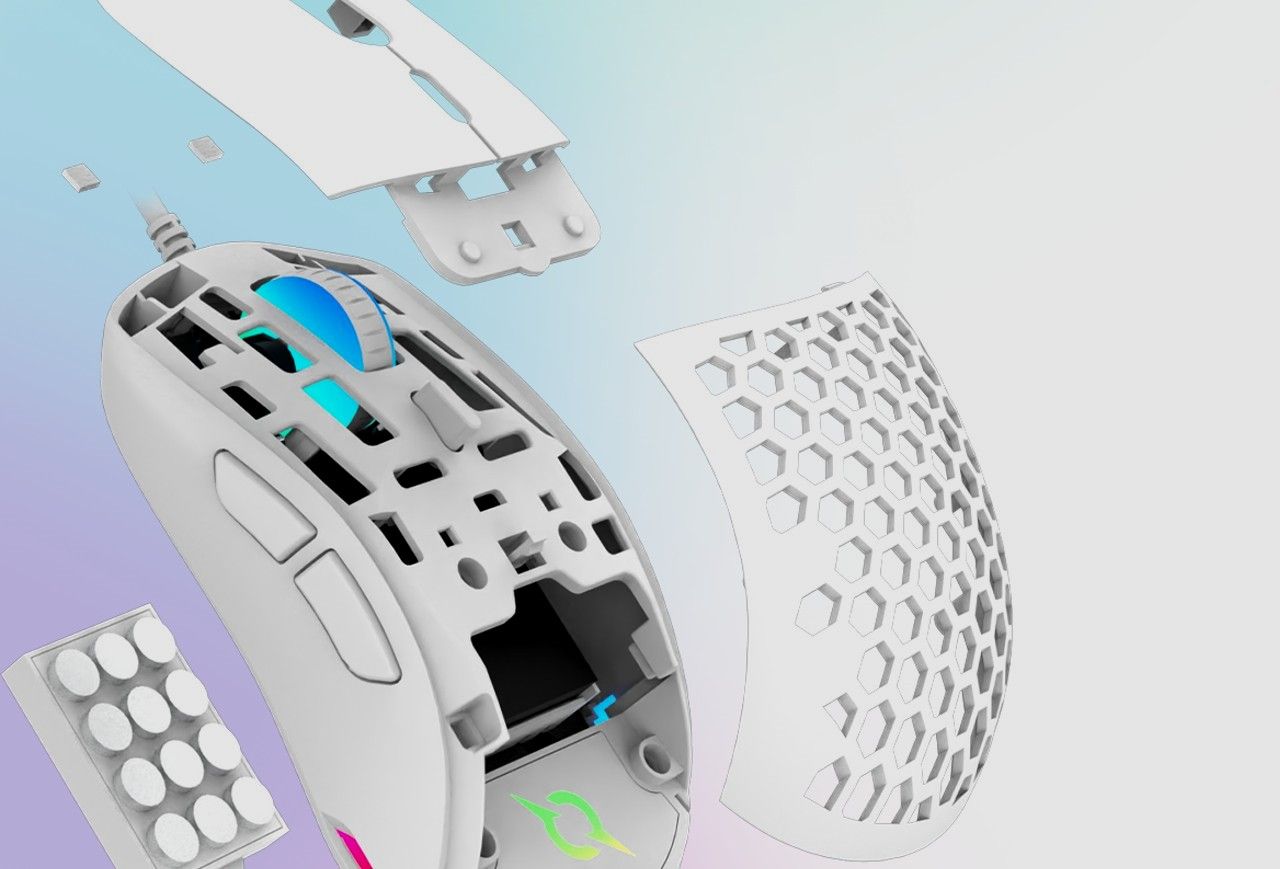 AQIRYS T.G.A. Wired — Unremarkable at first glance gaming mouse, lightweight due to perforation, like many other contemporaries, in fact, has a wide range of settings for the needs of a particular user. And it's not only about the software sensitivity setting (it uses the pre-flagship Pixart 3389 sensor of 16 000 DPI), but also about the possibility of physical changes.
For example, several housing versions are available: white, black and pink, with and without punching. By default the mouse weighs only 65 grams, but if you want you can adjust its weight and center of gravity by adding metal weights. And if weights are encountered in many other mice, then pads of different thickness under two main keys for changing click depth were never used before.
The shape of the AQIRYS T.G.A. The Wired is almost completely symmetrical, not counting the two extra programmable keys on just one side. Kailh's scrolls can withstand more than 80 million clicks, and the cable is soft, pliable, and in a white fabric braid, which probably makes it easy to get dirty. In addition to the Wired version of the mouse, there is the wireless AQIRYS T.G.A. With interchangeable panel no longer in pink, but in blue.
Mionix Naos Pro — for the big palm
Reasons to buy: 19'000 DPI Pixart 3370 sensor, ergonomic finger grips, weight 102 grams, 80 mln switch life. Presses, 100% Teflon feet.
Reasons not to buy: If you prefer light mice.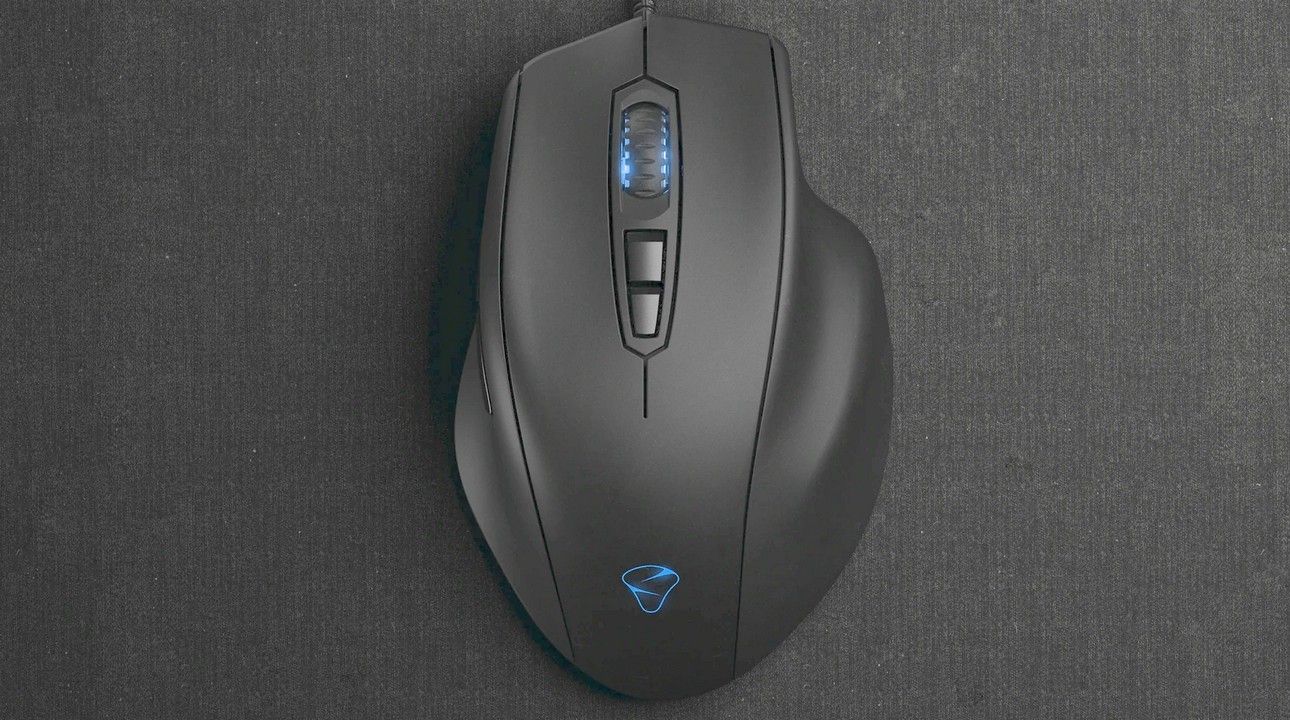 Mionix Naos Pro — quite a big (13 cm length) and weighty (102 g) gaming mouse. Lightweight mice are better for MOBA (Dota 2, League of Legends) and RTS (Warcraft 3, Starcraft 2) genres, where you need to quickly move the cursor over the screen. While the heavy «rodents» Priority for shooters (CSGO, PUBG, Quake 3 Arena), where you want precise control of the aim.
Naos Pro case is very wide (8 cm) as it has overhangs for your right thumb and left ring finger and pinky finger. This improves mouse grip and allows for less soiling of the cloth mat. But if you're a follower of narrow mice, have a look at the asymmetric Mionix Castor Pro or the symmetric Avior Pro with the same electronic stuffing. The latter is theoretically suitable even for left-handed gamers, if you don't take into account the additional buttons on only one side.
«Under the hood» Is a Pixart 3370 optical sensor at 19'000 dots per inch. It was originally designed as an energy-efficient solution for wireless mice, but thanks to high resolution and total absence of annoying acceleration it has started to appear in wired mice as well. Sweets under the two main keys hold up to 80 million. Trips, and the feet are made of 100 percent Teflon without impurities, resistant to abrasion.
Xtrfy M4 Wireless — Adapts to the user's hand
Reasons to buy: Pixart 3370 sensor at 19'000 DPI, wireless adapter, two interchangeable backs, adjustable center of gravity, the ability to print a new case.
Reasons not to buy: Not suitable for left handed.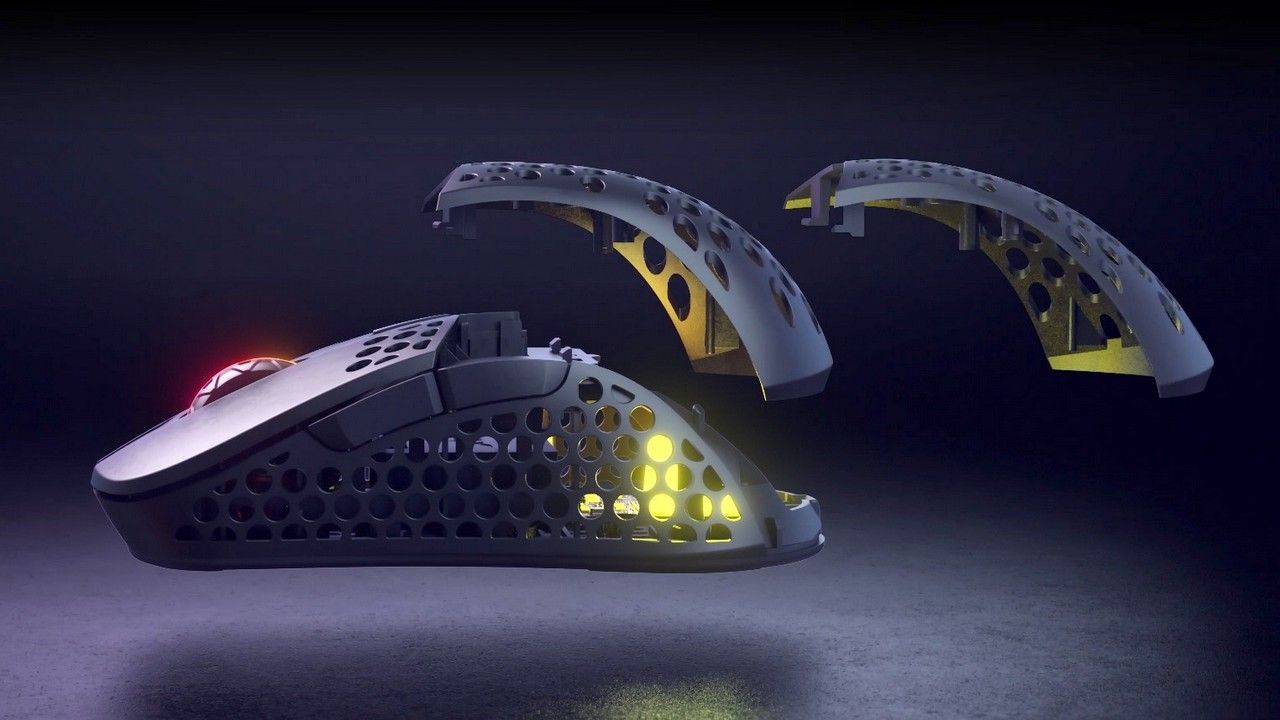 Xtrfy M4 Wireless — Gaming wireless mouse from rapidly growing brand from Sweden. Thanks to the abundant perforation of the case it weighs only 71 grams, which is lighter even than many wired mice. Similar to «tailed» M4 version (which weighs only 2g less), made asymmetrical. Two additional right thumb switch buttons on one side of the mouse.
Based on the flagship Pixart 3370 sensor, which not only has a high resolution of 19 thousand DPI, but also has reduced power consumption, which is especially important for Wireless mice. The creation of Xtrfy does not need constant replacement of batteries, because it is equipped with a rechargeable lithium battery. One charge lasts up to 75 hours, but only if the RGB backlight is turned off.
The built-in battery also serves as the center of gravity, which can be adjusted to suit you with the included screwdriver. Also you can choose between two interchangeable backs: flat and curved, for those who like palm or claw grip of the mouse. And you can download a drawing on the official Xtrfy website to 3D-print the case in any color. The manufacturer itself sells the M4 Wireless only in black and white.
Dream Machines DM6 Holley Trio — three connectivity options
Reasons to buy: Pixart 3370 sensor at 19'000 DPI, connects via USB cable, radio adapter or Bluetooth, breathable perforated housing.
Reasons not to buy: Feet are a little shallow.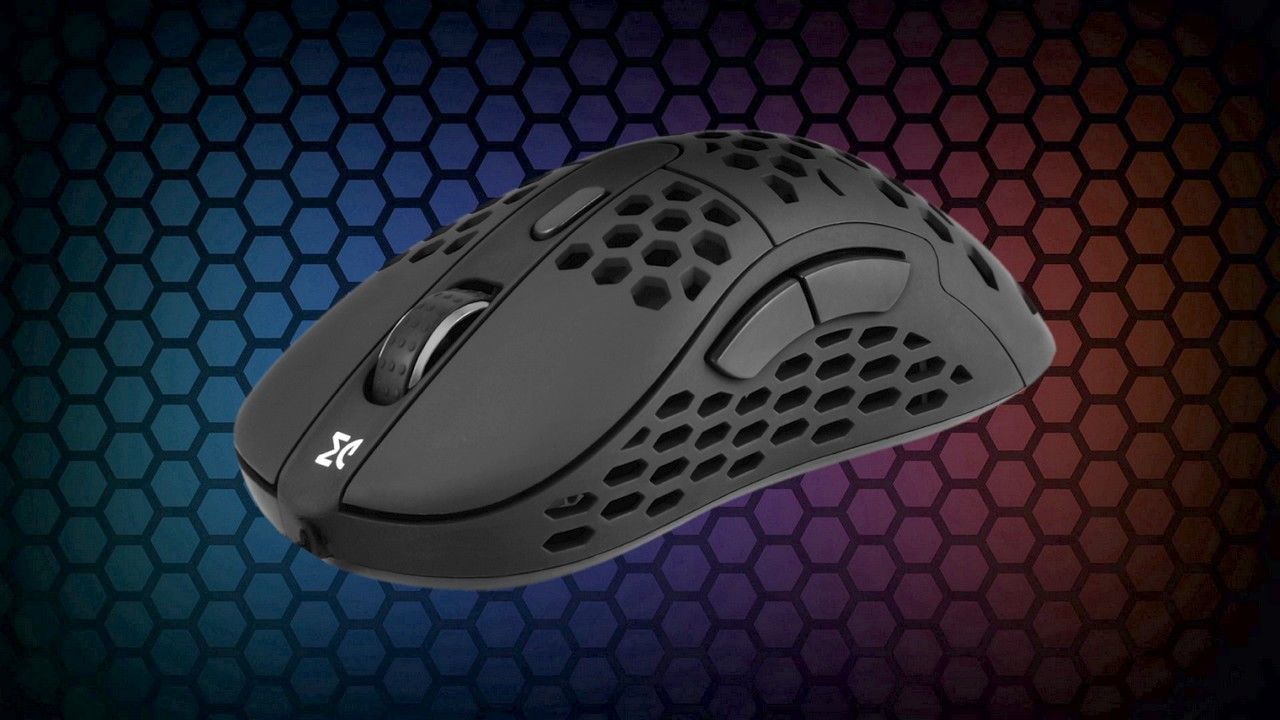 Dream Machines DM6 Holley Trio — The long-awaited update of the Polish brand's flagship mouse, which was designed and produced by crowdfunding on Kickstarter. The main improvement over the DM6 Holley Duo is in the sensor: the newest 3370 replaces the no longer young Pixart 3335, and the resolution has increased from 16,000 to 19,000 DPI.
Another know-how was the third connection option: to a USB cable and 2.4 GHz radio adapter added Bluetooth. This connection option is relevant for laptops, so as not to occupy the scarce USB-port, and smart TVs, to use the mouse instead of the remote control. But the Bluetooth interface limits the mouse's polling rate to just 125 Hz, while the radio module and cable give as much as 1,000 Hz, which is critical in speed-demanding eSports games.
In other respects Trio repeats old-fashioned Duo. The same perforated case from all sides to reduce mouse weight and provide palm ventilation. The same Huano micro-switches with a lifespan of 20 million. Presses under the main keys and an unknown switch of 3 million. clicks under the side buttons. Built-in rechargeable battery and extension cable to move the radio module closer to the user included.
Cooler Master MM731 — Ultra-light weight
Reasons to buy: 19'000 DPI Pixart 3370 sensor, connects via USB cable, radio adapter or Bluetooth, optical-mechanical micro-switches.
Reasons not to buy: If you prefer heavy mice.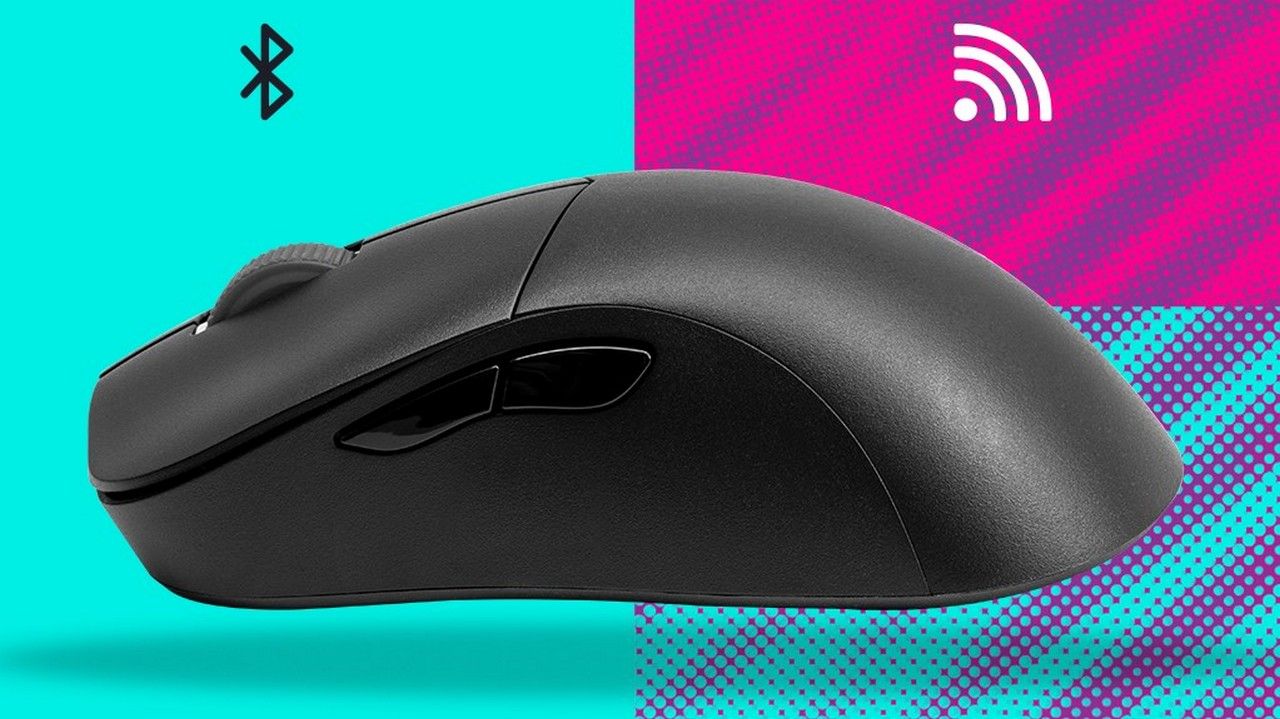 Cooler Master MM731 — One of the lightest, if not the lightest wireless mice for gamers. Including the built-in battery, but not including the detachable cable, it weighs only 59 grams. The switches used are opto-mechanical 70 mils. Presses. They are triggered not when an electrical contact is closed, but when a beam of light is interrupted, that is many times faster than the classic mechanical ones.
One battery charge lasts up to 72 hours of operation by means of 2.4GHz radio adapter, or up to 190 hours via Bluetooth. Such a big difference is achieved by the different polling frequency: 1000 Hz vs. only 125. And you can continue to use the mouse right during charging. RGB backlighting is de jure present, but de facto limited to just a small Cooler Master logo.
You can customize the glow and program the side keys in the proprietary MasterPlus app+. There they also offer to update the firmware of the mouse, which in the case of flagship models to do if not obligatory, then certainly highly desirable (for example to eliminate inadequate behavior of the sensor). In addition to the MM731, Cooler Master offers an even more functional mouse — MM831 with Qi wireless charging support.