The best headphones for TV
Fans of TV shows, sports, and music know how annoying it can be to watch TV loudly in your home or in your neighborhood. If you often encounter this problem, buy headphones. With them you can immerse yourself in your favorite programs without disturbing others. How to choose the right headphones for watching TV? What's so great about the best features «ears» In the segment? What type of headphones to choose? This article gives clear answers to these and other questions that arise when you decide to buy this accessory for your TV.
6 best headphones for TV
SteelSeries Arctis 9 Wireless
Bluetooth.Compatible: Xbox One – Xbox Wireless; PC.20 hours of battery life.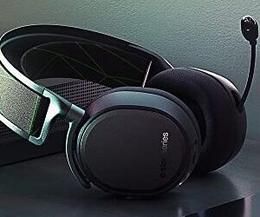 Bose Noise Cancelling Headphones 700
Bluetooth. With active noise cancellation. 20 hours of battery life.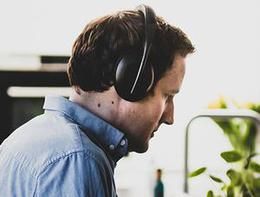 Sony WH-1000XM4
Bluetooth. With Active Noise Cancellation. 30 hours of battery life.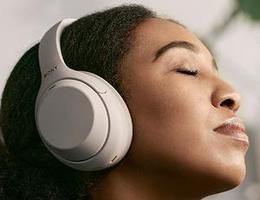 Better active noise cancellation
Sennheiser Momentum 3 Wireless
Bluetooth. With Active Noise Cancellation. 17 hours of battery life.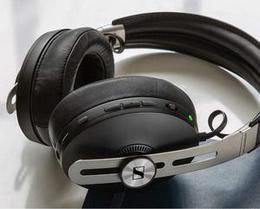 JBL Live 650BTNC
Bluetooth. With active noise cancellation. 30 hours of battery life.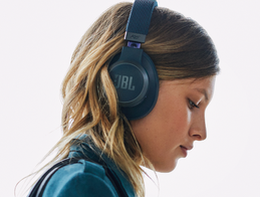 Best amplified bass
Sennheiser RS 175
Bluetooth. Without Active Noise Cancellation. 18 hours of standby time.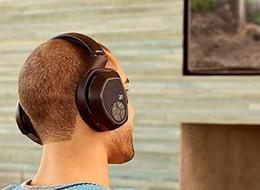 Detailed review
To make it easier for you to choose the right accessory, we made a selection of headphones for TV with different technical characteristics, which we will discuss in detail below.
SteelSeries Arctis 9 Wireless – The author's choice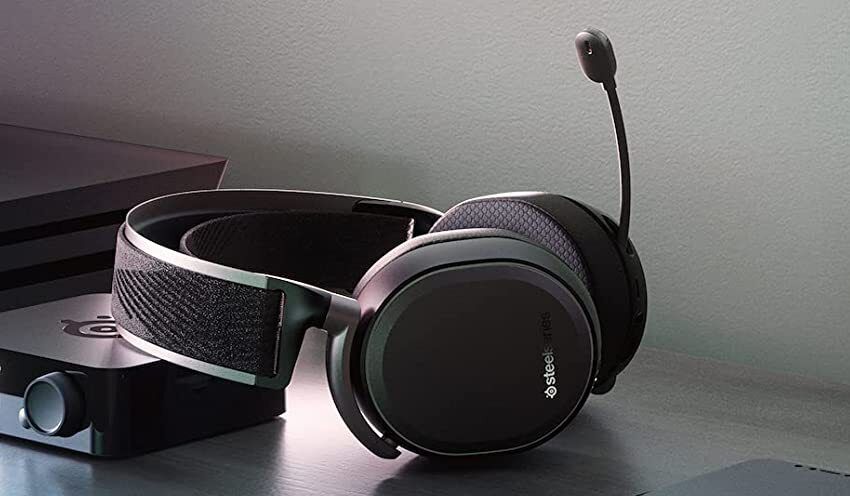 SteelSeries Arctis 9 Wireless is an interesting model with nice functionality: the ability to connect via radio, wire or Bluetooth, quality sound, comfortable fit, concise design and a good microphone.
Headphones look great. Oval shaped ear cups, interesting headband attachment, universal black color (not available in other colors). The design is stylish and versatile. No light bulbs, fancy cup shapes or other gamer tricks that many gamers consider superfluous.
SteelSeries Arctis 9 Wireless has plastic cups, fabric ear cushions, the headband is made of metal (base) and fabric (strap). The plastic of the cups is high quality, looks durable. However, the front side is very dirty. Fingerprints stay on instantly and are not easy to erase.
SteelSeries Arctis 9 Wireless headphones are comfortable, suitable for extended use. The fabric ear cushions are comfortable, your ears do not overheat in them, even after a couple of hours. The weight distribution is clever: you won't feel the weight of the headphones, even though they are not the lightest. Excellent system with self-adjusting head strap.
Another plus is that the headset can also be used while charging. The cable included is quite long, if necessary, the headset can be connected for a while.
Of course, sad about the microUSB, it is clearly outdated, as well as the lack of audio cable. And that's while the connectivity is there. The headset is not cheap, but if you want to connect it with a wire, you will have to buy it separately.
Reasons to buy:
Connectivity options
Comfortable fit
Quality sound
Reasons not to buy:
Bose Noise Cancelling Headphones 700 – Premium Choice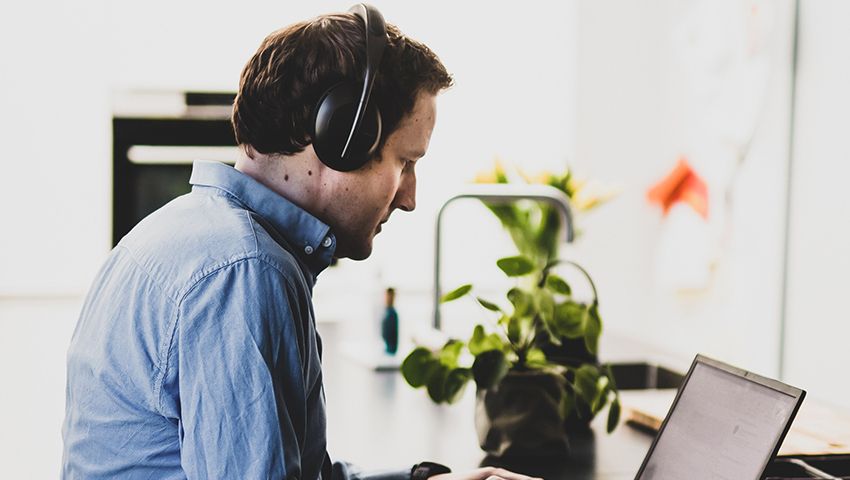 The design is stylish and futuristic. The headphones are compact, with smooth lines and quality plastic, metal and leatherette. They look much more interesting than their counterparts. The design is not foldable.
The headphones are lightweight and comfortable. You can spend 3 hours or more in them without any discomfort.
The sound is balanced and moderately authentic, without obvious accents and distortion, versatile and high-quality.
Noise cancellation and transparency modes are truly amazing with excellent cutting off monotonous low and mid frequency noise, easy to adjust and without affecting the sound. With the option of transparency you can talk comfortably without removing the headphones. No automatic modes like Sony's.
The controls are hybrid: part touch – convenient and workable, part push-button, all at your fingertips. No smart pause.
Reasons to buy:
Great active noise cancelling
Automatic shutoff when you are not moving (you can fall asleep easily with headphones on)
Quality Bluetooth connection
Reasons not to buy:
The design is not foldable
Sony WH-1000XM4 – Best Active Noise Cancellation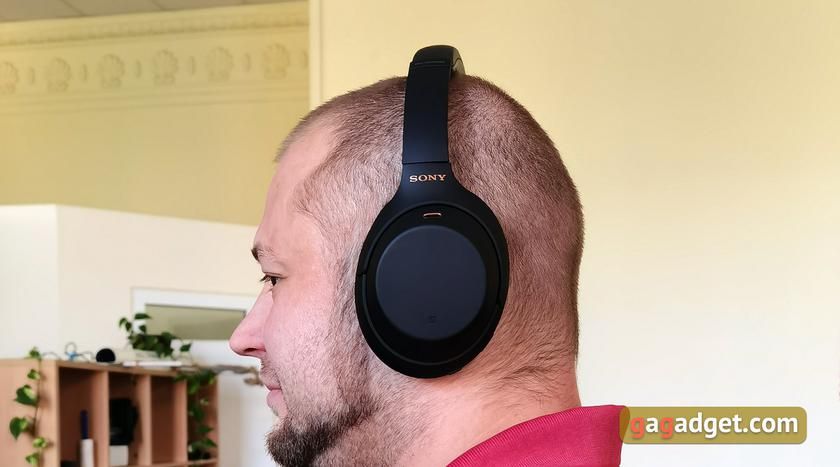 Almost no review is without the Sony WH-1000XM4 headphones, whether it's the best wireless headphones or the best active noise cancelling headphones. We couldn't help but include them in our ranking of the best headphones for TV, too.
These comfortable, smartly designed overhead headphones look great and have the best features. You can use them throughout the movie, plus the headphones automatically activate through mode as soon as you start talking, so you can have a conversation without taking them off. You can also simultaneously connect to a second device, like your phone, to pause a movie and answer an incoming call without removing your headphones. Call quality is excellent, thanks to Sony Precise Voice Pick Up and Speak to Chat, which optimize sound and volume during conversations.
Their main advantage is the sound quality. The woofers have been slightly improved over the XM3 model. The headphones have fairly low latency, so conversations won't be out of sync with the speakers' lips . Features active noise cancellation, a unique Sony QN1 processor and dual noise sensor. All of these elements work great together to remove background noise and create the ultimate immersive experience. There's also a great way to adjust the sound thanks to the equalizer in the Sony Connect app. For an extra blast effect or different soundtracks in any movie or TV series, try moving the slider «Clear bass».
Battery life is really good – up to 32 hours without recharging. Also features fast charging technology. However, it is worth noting that you can not use the headset while charging. Since the WH-1000XM4 is the flagship model, the previous model, the WH-1000XM3, may have ended up being cheaper. Note to.
Reasons to buy:
Best-in-class active noise-canceling feature
Adjustable sound
Fast charging capability
Reasons not to buy:
Cannot be used while charging
Looks the same as the previous model.
Sennheiser Momentum 3 Wireless – Better design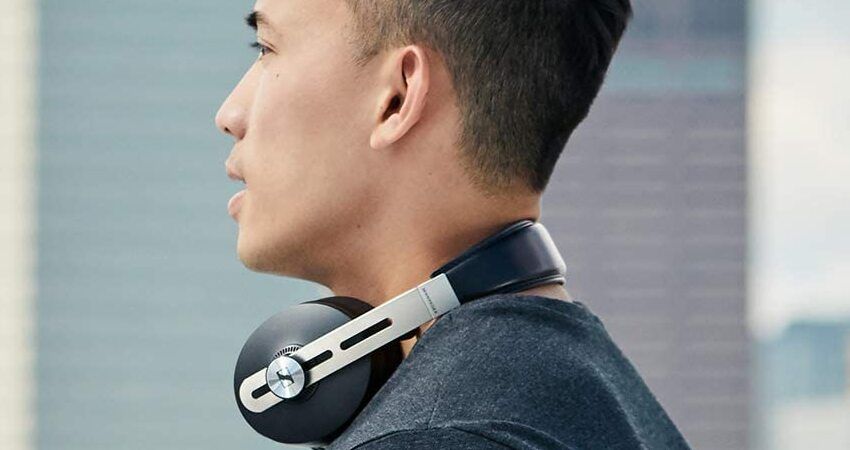 Wireless headphones from Sennheiser, the world-renowned brand in sound, offers the third generation of Momentum headphones. Three noise cancelling modes give you plenty of choice, and there are plenty of features you can experiment with (with the Tile app).
Given the Momentum level, performance is better than ever – clarity and rhythm are off the charts, and all-day comfort makes them a great choice of headphones for TV.
This is simply a great model in every sense. Great sound for music (probably the best among wireless models), which is also good for watching movies, with no loss of sync between picture and sound, noise reduction and transparency mode. Plus cable connectivity.
The headphones look sturdy and durable. Natural leather, metal and quality plastic guarantee durability. Yes, it's genuine leather. Eco-activists will be upset. Experienced users, on the contrary, will be happy with the details. By the way, the quality is very good: dense, textured.
It's a foldable model. The ear cushions (obviously for comfort) are quite deep and large. Accordingly, the headphones look quite large on the head. But this is inherent in all full-size models. Also because of this it is uncomfortable to wear them around the neck – the cups do not rotate.
Reasons to buy:
The quality of design
Sound quality
Convenient controls
Reasons not to buy:
Battery life – 17 hours. It's smaller than competitors in this price range
JBL Live 650BTNC – Better amplified bass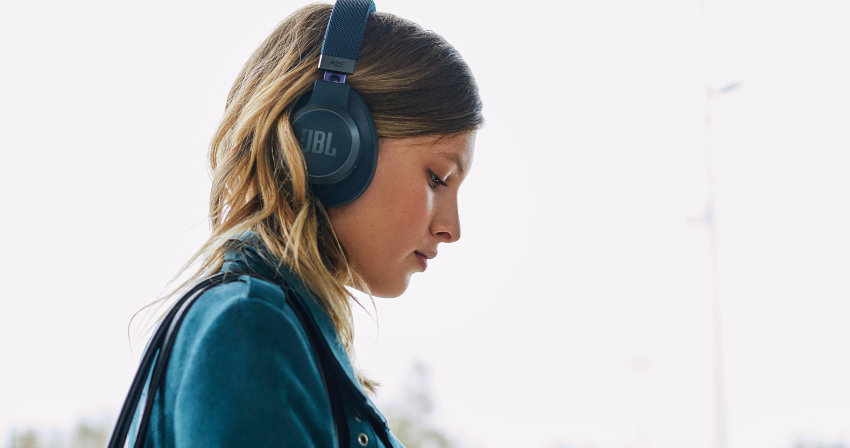 Honestly, we like the JBL Live 650BTNC for everything, even the design, and for us this parameter is on the level of sound. Who needs headphones with ugly appearance? That's right – no one, so JBL decided not to ignore it and created one of the prettiest models in this price range.
These are full size closed earphones. Material of the ear cushions is eco leather, which is not the best choice as it does not let air in and will be too hot for your ears in summer. Meanwhile, the headband is covered with mesh fabric, which is nice. It is soft and comfortable, between the head and the body there is a shock absorber.
JBL Live 650BTNC fits comfortably on your head, does not crush and does not fall off when you turn your head too much, although after a day in the headphones you feel that they weigh quite a lot. Rotating cups and folding design allows you to carry them around your neck or in your bag.
The headphones have a hybrid control system: touch and classic keys. The controls are intuitive, it will take you a couple of hours to figure out blindly.
The sound is clear and natural, there is bass, but it is not dominant, the music sounds pleasant even at maximum volume. Noise cancellation is good enough that you can enjoy watching TV no matter what's going on around you.
Reasons to buy:
Great design
Comfortable fit
Noise reduction
Reasons not to buy:
The eco leather can be hot for your ears
Sennheiser RS 175 – Easy charging

The wireless TV headphones specifically designed for this purpose are the Sennheiser RS 175 RF. They have a specialized docking station that connects directly to most televisions and allows you to use them wirelessly with minimal sound delay. Yes, a little latency is possible, which isn't critical for movies, but won't work for musicians.
The station takes up little space and is simultaneously a charger, radio transmitter and headphone stand. It has control buttons on the front, digital optical connectors on the back, as well as an analog jack for connecting to a TV. It transmits radio signals up to 100 meters (with obstructions, up to 30). A second pair of Sennheiser HDR 175s can be connected to the transmitter to watch movies together. The station can block the Wi-Fi signal, but this aspect does not occur to all users.
Thanks to the efficient placement of controls on the comfortable ear cushions, you don't have to get up from the couch to adjust the volume or activate features like extra bass or surround sound. While some users may find that their default sound profile suppresses the bass a bit, it does not suppress dialogue.
Reasons to buy:
Receive radio signals in all conditions;
Lengthy service;
A long-life battery is rated for 18 hours of continuous use;
Reasons not to buy:
Little sound delay
Can affect the Wi-Fi signal
The best headphones for TV – buyer's guide
How to choose headphones for your TV?
Determining which headphones to buy to watch TV is quite easy by several criteria. Pay attention to whether the headset is wired or wireless, what kind of signal transmission method is supported. It is also important to consider factors such as sound delay and playback quality, as well as usability.
Wired or wireless. The first parameter you should pay attention to is whether the headset is wired or wireless. Using wireless headphones for television is more preferable today because it's extremely difficult to find devices with the right length of cable, and even if you do find one, no one wants a long cable through the entire living room. The only disadvantage of wireless gadgets is that they are compatible with those televisions that have Bluetooth support.
Transmission method. The next parameter to consider before buying is how the signal is transmitted from the TV to the headset. It can be:
The radio channel – Great coverage range of up to 100m, but the likelihood of interference in some areas in the rooms (switching to another channel will help, 2 to 27 of them can be offered);
Infrared transmitter – source and receiver must be in direct line of sight, usually the range does not exceed 10 m, but despite this small figure, the clarity of reproduction is much higher than in the previous case;
bluetooth – wireless technology that operates at a distance of 10 m, the risk of interference is minimized, but not every TV is equipped with this module.
Which one to choose depends on personal preference, the functionality of the TV, as well as financial resources.
Audio Delay. Audio delay is the time it takes for audio data to be transmitted from the source to the headset. At best, it takes a few milliseconds to process the digital data and convert it into an audio signal. Wired devices have a delay of 5-10 ms, while wireless devices have a delay of 30 ms or more.
Sound quality. This parameter can be determined by 3 indicators: sensitivity – is responsible for the volume and its control level, the normal range should be 95-100 dB; impedance – is responsible not only for the volume, but also for the quality of playback, 16-32 ohms is enough for portable equipment, over 32 ohms for stationary; frequency – determines the range of reproduced sounds, the normal range from 20 to 20 000 Hz. Only a comprehensive approach to looking at all of these features will help you choose the best headset option.
Battery type and battery life. There are removable batteries and docking stations for recharging the headphones. Easier to choose built-in battery . Battery life is important if the user travels a lot and uses headphones on the road.
Presence of control buttons. When you're watching TV or playing computer games, it's convenient to have a volume control or other features on your headphones. However, this is only possible if you choose Bluetooth headphones for your TV.
Ease of use. After choosing a model, it would be nice if you could try on the options you are considering. This will allow you to get a feel for how comfortable they are and how long you can use them. Pay attention to the headband material, the shape of the cups, the softness of the ear cushions, and the overall weight of the design.
Summary
It's time to summarize all of the above. As you can see, the choice of headphones for TV should be treated responsibly, but in the meantime for some parameters you can try to save money. For example, if you only plan to listen to the TV with the device, they don't have to play a wide range of frequencies. This is due to the fact that most television programs are broadcast with the lowest sound quality, this will not help improve even the most expensive «ears». Good headphones should provide comfort, brighten up your leisure time and provide decent sound.
Best Headphones for TV – FAQ
How to connect wireless headphones to TV?
Obviously, your TV must have a built-in Bluetooth adapter. But that's not enough. It turns out that only TVs running Android TV allow you to connect Bluetooth headsets and stream audio to them without any problems. But you probably know that almost all televisions work only with original devices (cameras, adapters, remotes etc.). д.). About the same with headphones. LG and Samsung TVs have no problem connecting the original Bluetooth stereo headsets. But common headphones are unlikely to connect. Although there are certain series and models that have Bluetooth headphone connectivity. LG still can't let users choose which Bluetooth devices they want to connect to their TVs, and limits them to the original accessories.
What to do if your TV does not have Bluetooth?
There are devices called Bluetooth transmitters. They can be used not only with TVs but also with other devices. Their function is to receive sound from the TV via cable (3.5mm, RCA or optical output) and send it via Bluetooth to any wireless headphones.
This is a universal solution for almost any TV, even quite old. All you have to do is plug the cable from the transmitter into the headphone output on the TV and connect the headset to the transmitter. These adapters are usually powered by a built-in battery. Usually comes with a USB cable for power / charging. If your TV has a USB port, you can connect an adapter to it.