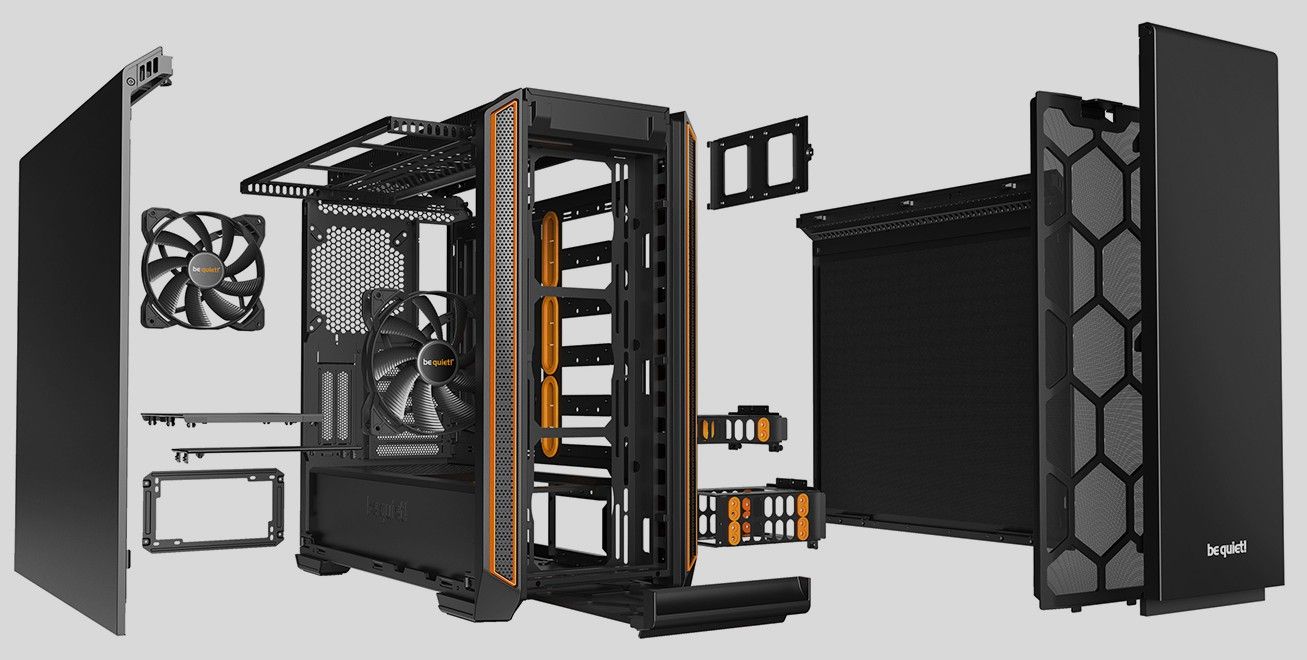 The 5 best PC cases: big and small
Theoretically, you can even build a PC in a tangerine box or without any enclosure on your desk — so called open stand. And you can turn on the PC by shorting the contacts on the motherboard with a screwdriver. But besides aesthetics, the case has other important functions: protects computer components from mechanical damage, absorbs static electricity, muffles noise from fans and drives vibration, forms a correct direction of air flows. Although some unfortunate models of cases seem to be designed by people who don't know anything about aerodynamics. There are three main case sizes to match motherboard sizes, as well as several subtypes. The most compact Mini-ITX cases which can be implemented as «thin clients», cubes or just low towers. Mid-sized Micro-ATX — Moderate-height Mini-Towers or larger cubes. And finally, full-size ATX, aka Midi-Tower or Super-Tower, the second subtype for wide E-ATX motherboards.
Fractal Design Torrent Nano — Ultra-compact size
The reason to buy: Mini-ITX format, both glass side panels, louvered front panel with dust filter, 18cm fan.
Reason not to buy: Top-mounted PSU may not appeal to everyone.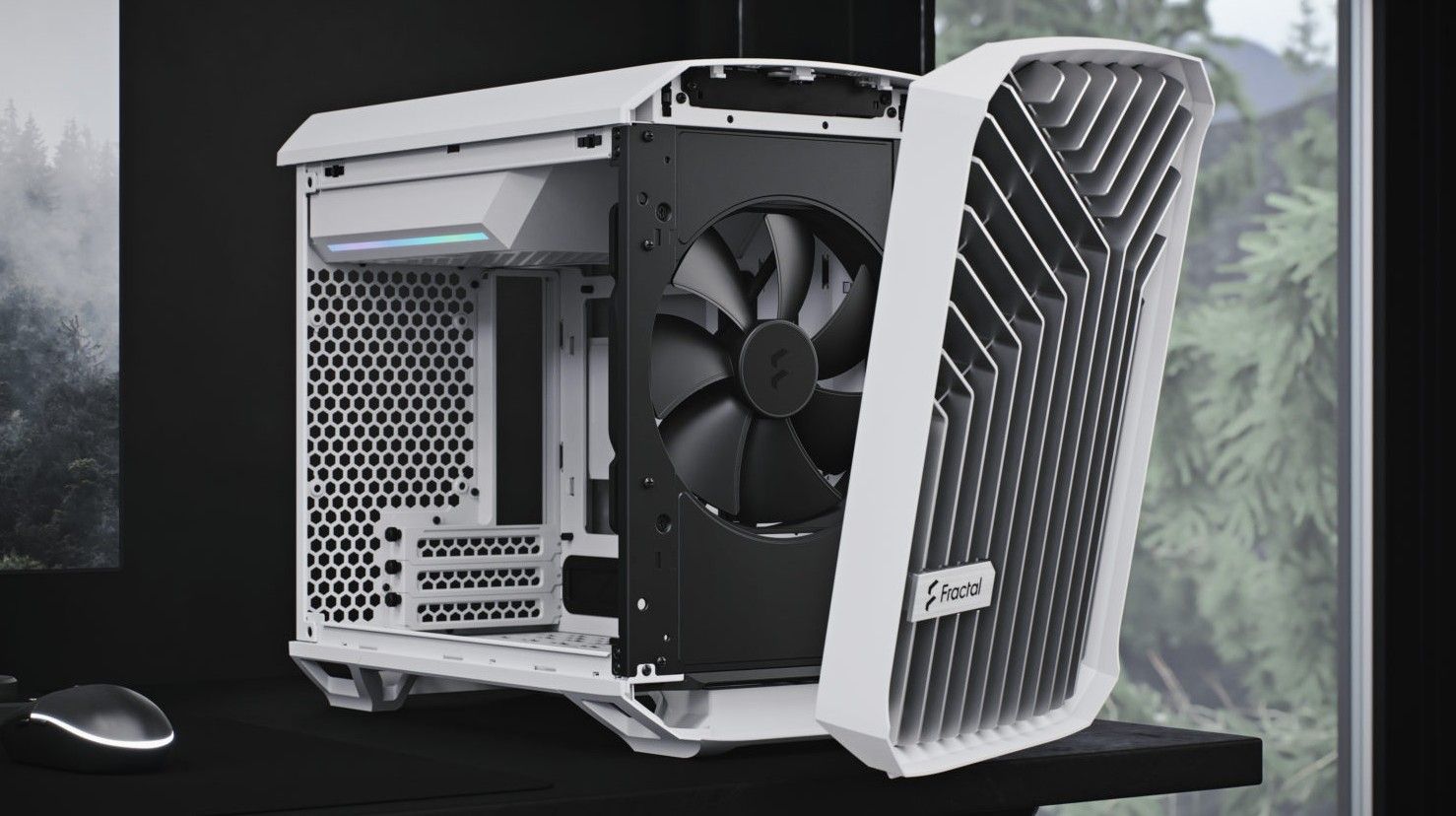 Fractal Design Torrent Nano — Mini-ITX form factor housing that also accommodates longer Mini-DTX motherboards with one PCI-E slot. Sturdy steel frame paired with rubber gaskets helps minimize vibration of the only 3.5″ hard drive. However, to avoid the chaos of stacking SATA cables in such a cramped chassis, it's better to trust M.2 SSDs installed directly on the motherboard.
Moreover both side panels of the case are made of tinted glass that is resistant to shocks and scratches. Which means cable management errors will be perfectly visible to your guests. Thankfully, the Torrent Nano offers mines with curtains to pull the CPU and motherboard power wires through in the shortest possible way. The power supply is not only covered by a decorative cover, but also located on top, which increases the air circulation inside the PC case.
The only complete turntable has an increased diameter of 18 cm and sits at the front. The abundant front panel perforations, coupled with a dust filter, provide a balance between ventilation and cleanliness. Propeller can be with or without light, but is guaranteed to have 4pin PWM control and hydrodynamic HDB bearing.
Cooler Master TD300 Mesh — For light-music lovers
The reason to buy: Medium-format Micro-ATX, clear viewing window, removable top for mounting liquid cooling, two ARGB fans with control hub.
Reason not to buy: No USB Type-C on the interface.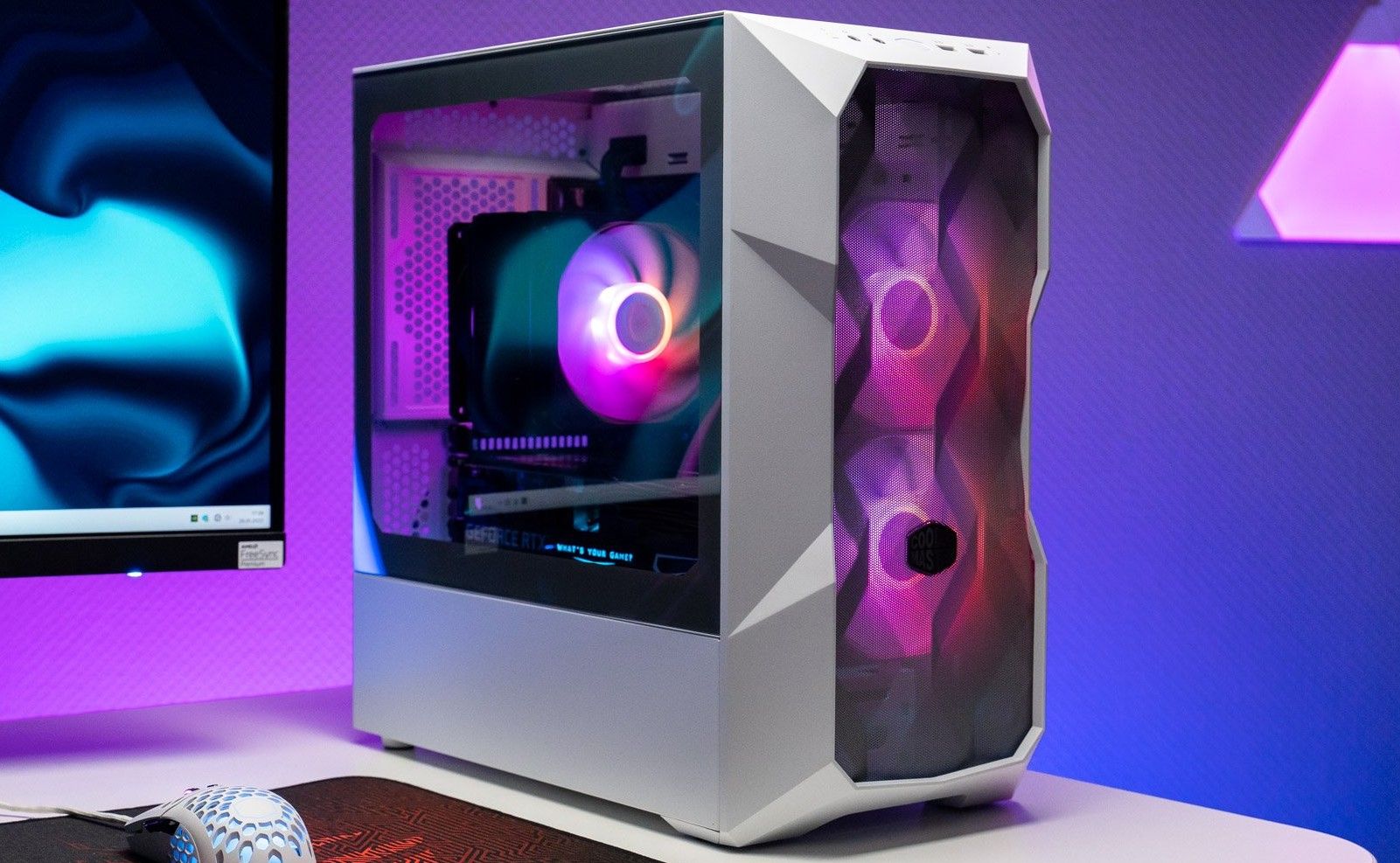 Cooler MasterBox TD300 Mesh — Mini-Tower computer case for mid-sized Micro-ATX motherboards. Its front panel is made in polygonal Fine Mesh shape that reduces air intake noise and traps fine dust better. Behind it hides a pair of 12cm Sickle Flow fans with customizable backlighting. It comes with the ARGB-5V hub to control both the speed and the glow.
Tempered glass covers only top side of case where motherboard is located. The slot for the power supply is deaf, so it will not be able to boast of a kilowattage. The top panel can be removed completely, allowing you to mount the heatsink on it without hurting your fingers. Can't fit extra long 360mm waterpacks, but can fit extra wide 280mm ones (one on top and one on the front).
The MasterBox TD300 Mesh has sufficient height margin so that the cooler does not rest against the motherboard heatsink. Two video card plugs are made reusable on thumbscrews, and two more will have to be broken out. Maximum allowable video card length — 34cm, which is just about the size of a typical three-fan model. The garbage can for two 3's.5" HDD can be moved back and forth, making room for a long PSU or large RESS.
FSP CMT350 — top for its money
Reason to buy: Accommodates full-fledged ATX motherboard, relatively small size, three fans, LED strip and LED controller.
Reason not to buy: The 280mm water drain does not fit.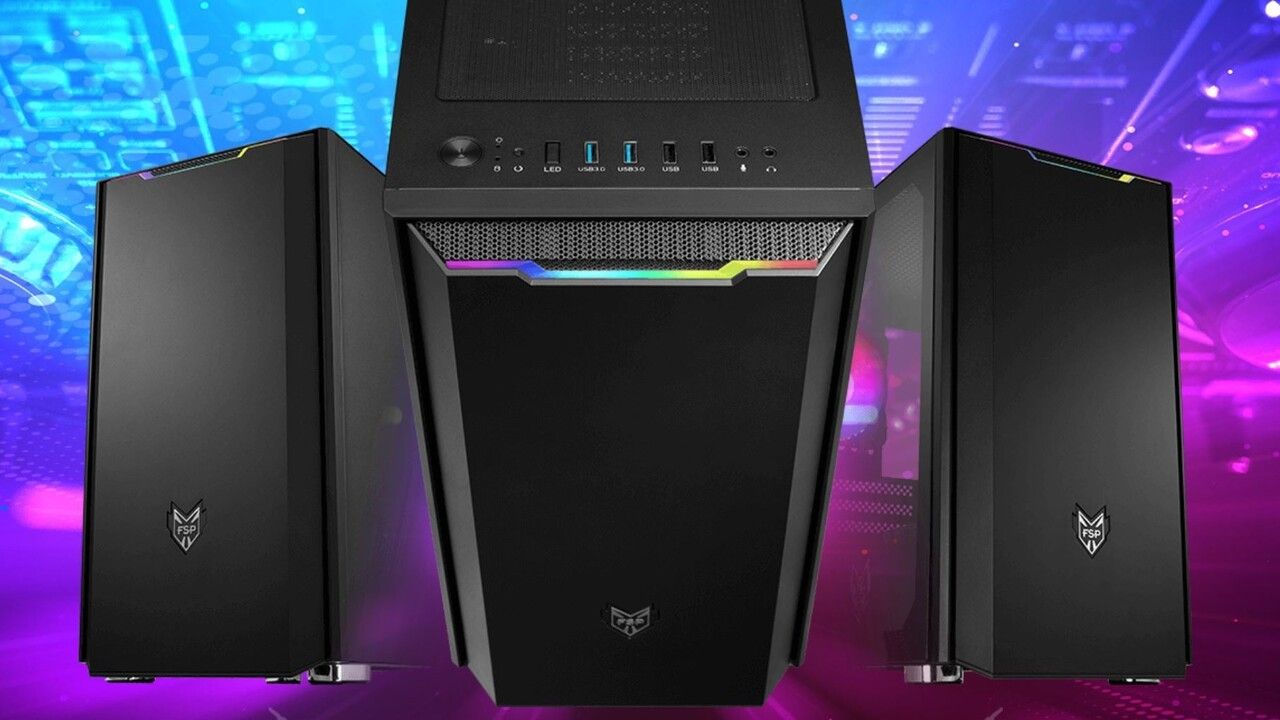 FSP CMT350 — Still a relatively compact case for under $100, which still fits a full-size ATX motherboard with seven PCI-E expansion slots. The only exception is the wide E-ATX for semi-server (workstation) Xeon processors. Weighs about 6 kg, which is probably the golden mean for Midi-Tower cases: Not too thin anymore «can», but not the risk of a lumbar strain.
Full-height inspection window and power supply cutout in the casing. Maximum allowable PSU length is 17 cm, some modular kilowatt units may not fit. The processor tower height is the standard 16 cm, and the video card length — up to 35 cm. A 240mm waterblock fits on top and the front — 360. But the 280-cup won't fit in, it is too small for it.
The FSP CMT350 comes with three fans: two non-backlit ones in the front and one in the back with RGB already. LED strip is also used to decorate the front of the enclosure. LED controller is present, which can be synchronized with ASUS Aura, MSI Mystic, Gigabyte Fusion, ASRock Polychrome or Biostar Vivid motherboard. And if the motherboard does not have a corresponding three-pin connector, the backlight can be controlled by a dedicated button on the chassis.
ADATA XPG Defender — for dual processor systems
Reason to buy: Accommodates the biggest E-ATX motherboard possible, magnetic front panel, vertical graphics card mounting, three 12cm fans.
Reason not to buy: No vibration absorbing pads for HDD.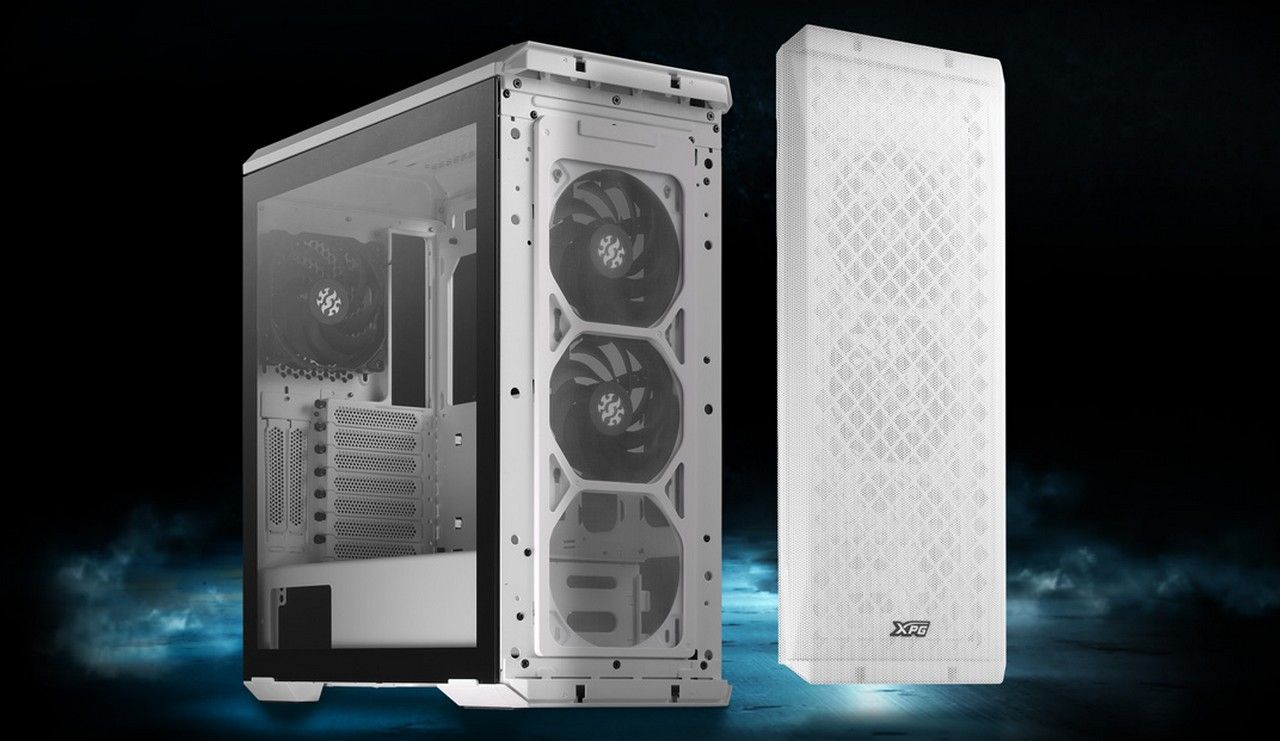 ADATA XPG Defender — Spacious PC chassis that fits even the largest E-ATX motherboards with double Intel Xeon or AMD Threadripper socket. Weighs 7.6kg, which is quite in line with the increased size. The graphics card can be installed either horizontally or vertically, but in the second case, you will have to buy the rack and cable yourself.
There is a 360mm water block in the front and — 280 mm. By heat dissipation area by radiator (length times width), the 280 is much closer to 360 mm than to 240 mm. By default there are three XPG Vento 120 fans with no backlight. There is no reboost for controlling their speed — Need to connect to the motherboard and use the motherboard to adjust the speed.
Mesh front panel is easy to remove for cleaning thanks to magnetic fastening. Exactly the same way easily dismantle upper and lower dust filters. High feet promote power supply air intake. But there are no silicon pads to dampen hard drive vibration. But there is a modern paired, instead of two separate, MiniJack for headphones. You can choose between black and white variations of XPG Defender, as well as a Pro version with illuminated turntables.
be quiet! Silent Base 601 — One hundred percent silence and many drives
Reason to buy: Largest E-ATX motherboard fits in, two 14cm fans, 8 HDD slots.
Reason not to buy: Heavy weight may not be to everyone's liking.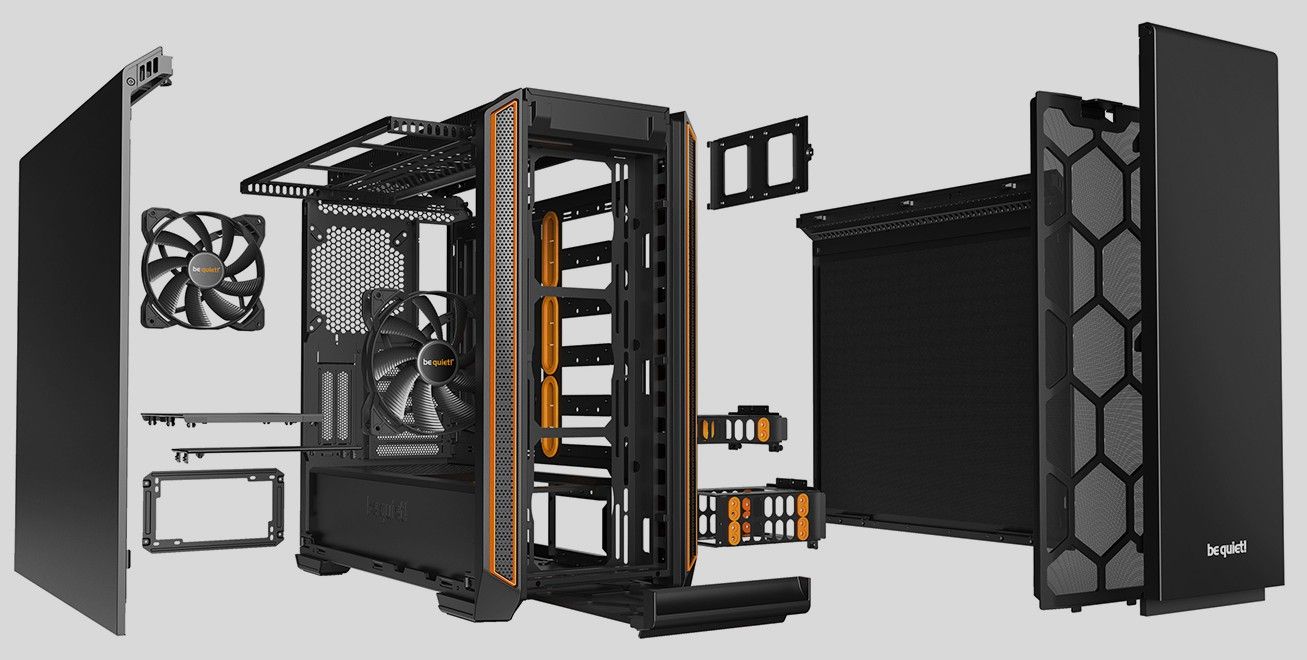 be quiet! Silent Base 601 — huge ten-kilogram chassis from the German brand. Almost entirely made of metal. There is also a version with a glass viewing window, but because of it partially misses the basic idea of engineers — full silent. The dummy version has all inside panels lined with a centimeter-thick soft noise-absorbing material.
A pair of Be quiet branded scrolls also contributes to the quietness! Pure Wings 2 with 14cm diameter, rifled Rifle Bearing and aerodynamic grooves on the blades. It comes with a three-position reobass: low, medium and high speed. Thankfully, the be quiet! Remain very quiet even at maximum speed. Instead of air cooling, you can install water cooling or, more precisely, liquid cooling (refrigerant circulates inside the circuit) — fits two 280 or 360 mm radiators.
Two baskets for 3.5″ drive — The first one is double and the second one is single. Five more single baskets are available separately. Soft silicone pads completely silence the vibration of HDD. This makes the case great for multi-disk storage, such as file sharing within a large office or professional 4K video editing.